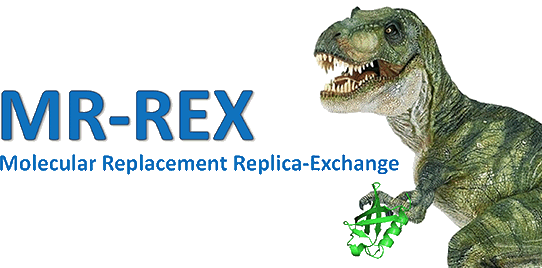 MR-REX (Molecular Replacement by Replica-EXchange Monte Carlo simulation) is a method for performing molecular replacement in X-ray crystallography diffraction. The method is designed to search for the optimal placement of target structural models through replica-exchange Monte Carlo simulations; this enables cooperative rotation and translation movements, and simultaneous clash and occupancy optimization, which can often improve the success rate of molecular replacement on low-accuracy structure models, compared to traditional MR approaches. The input for the MR-REX program is a protein structure and a cif structure factor file, where output contains multiple structural conformations of the target protein structure placed in the unit cell (see an example of MR-REX output. Questions and suggestions about the MR-REX server can be posted at the Service System Discussion Board, where some members will study and answer the questions accordingly.
MR-REX On-Line
---
[Click here for an example input] [Click here for an example output]
---
MR-REX download
Click MRREX.tar.gz to download the newest version of the source code of MR-REX. You can also click on MRREX_exe to download the executable program for Linux system. Nevertheless, it is recommended to download the MR-REX source code and compile it on your machine, which gives you higher speed to run the program.
Click DataSets.tar.gz to download the structure decoy datasets that were used to train and test the MR-REX method.
---
Reference
Jouko J. Virtanen, Yang Zhang. MR-REX: Molecular replacement by cooperative conformational search and occupancy optimization on low-accuracy protein models. Acta Crystallographica Section D, 74: 606-620 (2018). [PDF] [Support Information] [Server]